Maiden Flight of a Boy Alone 
As my father's Super8 cine camera panned upwards from the family to my newly airborne plane they waved at me soaring skywards from Heathrow, bound for Venice to visit my grandparents. My father, a typical 1960's dad, filmed every moment of take-off, nothing would be omitted. What he had missed however was the not insignificant issue that I wasn't on the plane. They were blowing kisses at the wrong aircraft!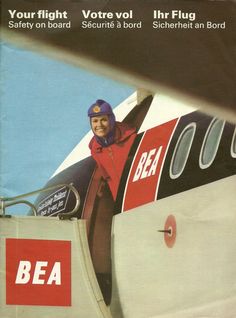 I, meanwhile was lost and tearful in BEA's departure zone in Terminal 2. My flight had been delayed for two hours but as a VIP Junior Flyer I was ushered into an office. To an 8-year-old this was impressive and I actually thought we were in the control tower. Through the picture window I saw planes and baggage handlers moving in strange jagged dances across the elephant grey tarmac. I remember thinking that if I wasn't so sad, I'd enjoy this scene. My view became overwhelmed by a massive PAN AM tail fin cruising past. It was so close I could see the paint break in the celeste globe where the rear aileron was hinged. It looked clean and dirty at the same time.
The control tower/office door opened and a pretty girl breezed in. Confident, tanned and switching from Italian to English effortlessly, she smiled at me. She introduced herself as Maria-Grazia. I remember her wearing white lace gloves. She was ten. For the first time in my life I felt a heat blush that bore no relation to the warm weather. Could I, at 8 years and 8 months be falling in love? The hostess announced that we'd be travelling together as VIP Juniors. My face cracked as a whimper escaped my mouth; what about my family? My grandparents are waiting at Marco Polo. MG looked at me with the gaze of a grounded angel 'We'll all be alright'.
Gloop gloop went my melting heart.
And we flew. I relaxed into flight, MG's kindness and two-years-more-on-earth maturity gave me confidence. The emotions stirred were the pure ones children can feel that usually only happen in books and movies featuring parks and sunlight.
Her deep brown eyes switched from mine to the round cornered porthole 'look' she said 'La Laguna'. Windows on both Port and Starboard displayed the deep oil green sea on which it felt like we were definitely going to land. There was no sign of ground anywhere. This scene, MG to my immediate right and sea filled windows all around has been a regular dream ever since. A serenity only broken by the bump and upward judder of the unexpected Venetian runway.
At the journey's end I won't pretend we held hands, nor that I had the foresight to get her address (in the 60's you swapped addresses and wrote to each other). As we stepped down the grey hot metal stairs towards our expectant high volume relatives we exchanged smiles and flighty heavy hearts of a love found, then lost forever.
She looked a bit like this: